It would be foolish to expect Harley-Davidsons to be low-cost motorbikes. In fact, some of these roaring machines are costlier than today's supercars. There are certain motorcycles of Harley-Davidson that maintain their value better than others over the years. It is, therefore, hardly a surprise that the rare models among them fetch a sizable sum at the auctions.
The company manufactures a few motorcycles that are not for regular sale. They end up in the private collections of the wealthy collectors. Here, we'll take a look at some of the most expensive motorbikes that Harley-Davidson has produced:
1. Cosmic Starship – $3 million
At one point, the owner desired to have $15 million for this car, but its cost has shifted. The Cosmic Starship is still a unique model among the Harley-Davidson motorbikes. This 2002 V-Rod has been painted in the Cosmic Extensionalism style of Jack Armstrong, the nephew of Neil Armstrong.
The Cosmic Starship is not a motorbike that you'd take on the road for a regular ride. Nevertheless, it surely stands out as an excellent piece of art.
2. Bucherer Blue Edition – $1.9 million
This Harley-Davidson motorbike features gold-plated screws, diamonds, and safes integrated into the tank. Besides, it also contains a watch made by the Swiss watchmaker Carl F Bucherer in collaboration with Bundnerbike. It took more than 2,500 hours to produce this extraordinary motorcycle.
The motorbike's iridescent blue hue was achieved by employing a secret coating method used by Bundnerbike's experts. It became the first motorcycle in the world to have a motor lit up from the inside.
3. Captain America – $1.35 million
This motorcycle was featured in the movie Easy Rider, which came out in 1969. In the movie, the character played by Peter Fonda takes this bike on a cross-country ride. Although this movie didn't invent the chopper, this stylish motorcycle greatly influenced the minds of young Americans. In a way, it perfectly symbolized a Bohemian lifestyle that Fonda and Hopper enjoyed in the film.
While filming the final scene of the movie, one of these motorbikes crashes. This happens when a passenger in a pickup truck shoots Fonda while he is riding the motorcycle. The crashed bike is the only Captain America motorbike that ever existed. Today, it is a part of the collection of the late Paul Allen.
4. 8 Valve Racer – $1 million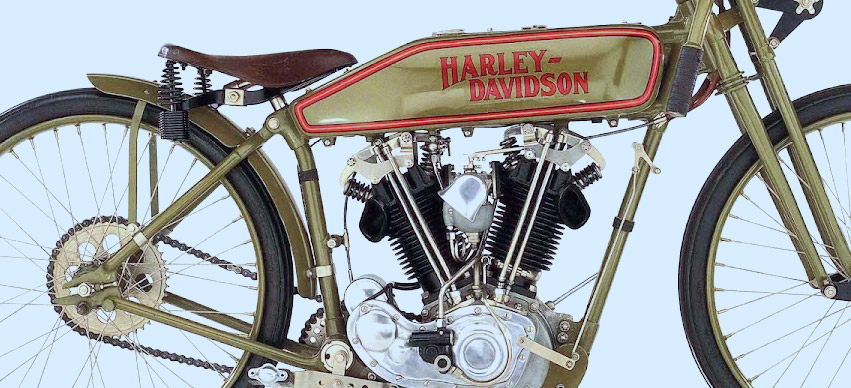 In 1916, Harley-Davidson's 8 Valve Racer made its competition debut at the 300-mile race of Dodge City. It won this race, which also had the rival Indian and Excelsior motorcycles competing. Over the years, a few variations of this motorbike were found.
One of them was found in an Australian Outback after a gap of thirty years. This particular Harley-Davidson model was leaner in appearance and had no major additions. Because of this design, it achieved some terrific speeds for its time.
5. Strap Tank – $715,000
This was among Harley-Davidson's early motorcycles. It was one of the 150 motorcycles that the company produced in the year 1907. The motorbike is quite rare to find and this makes it a good item for the collectors. It was sold to a collector known as E. J. Cole and put up for display at the Sturgis Museum. In 2015, it was sold for an excellent price.